The Standard Oil Company
was broken up in 1911




In 1890 a law was passed by Congress that made most monopolies illegal. The law is called an

anti-trust law

, because in those days large monopolies were also called

trusts

.

In 1911 the Standard Oil Company was ordered by a federal court to break itself up into many separate, smaller companies. That way, the oil industry would no longer be dominated by one huge company.

These are just a few of the big oil company names today that trace back to the breakup of the old Standard Oil Company:



ExxonMobile Chevron Amoco Sohio




Although the Standard Oil Company itself no longer exists, the Rockefeller family and its large fortune are still part of American life today. The grandchildren and great-grandchildren carry that famous name today in fields including politics, business, banking, medicine, and charity work.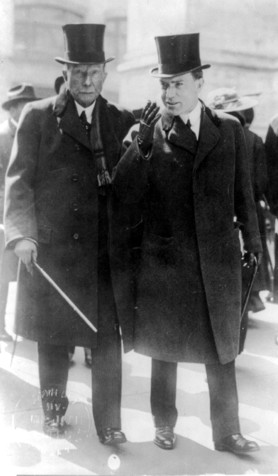 John D. Rockefeller (on the left)
and his son in 1915.