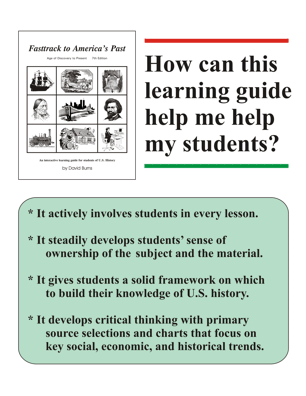 What is Fasttrack to America's Past?

Fasttrack to America's Past is a 240 page learning guide / workbook for secondary level U.S. history students, supported by a matching Internet site. It was created by a veteran public school history teacher, and includes the topics found in most national and state U.S. history standards.

The purchaser has permission to photocopy pages from this workbook for the use of students in his or her own classes.





Fasttrack to America's Past

actively involves students by pulling them into the process of exploring and building their knowledge. In its pages, students complete 20 historical maps. They finish dozens of charts and graphs using actual historical data. They search the Internet for new information. They experience the powerful ideas and words of Americans who left us first-hand accounts of times past.



Fasttrack to America's Past

guides students as it helps them build a sense of confidence and ownership of the subject. It has won the

highest praise possible

: Students often ask to keep their workbook when the last pages are done.


Tell me more -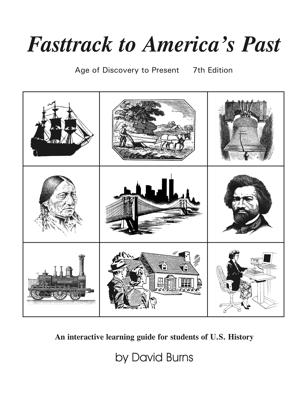 The video, photographic, and text resources now easily available online and on DVD can make history a much more engaging subject for today's students. Students still need a

clear, concise guide

for their studies, however, or they end up wandering aimlessly. We still need to help students find the most important paths.



Fasttrack to America's Past

was developed by a veteran history teacher to be a guide book that keeps all students on track to success. It encourages students to explore topics widely, while still providing a common framework of essential historical knowledge. For example:
Key vocabulary terms, people, and events of each time period are explained in graphics-rich topic summary pages and timelines.

Students read and analyze brief selections from primary sources drawn from a diverse group of historical figures.

Students work with statistics to create charts and graphs of historical patterns, then draw conclusions based on their analysis of real data.
Students complete maps - 20 in all - to help them connect geography to historical events.
| | |
| --- | --- |
| The good news: Most students do want to know about America's story. | The good news: Most students do like to be active, exploring learners. |
| The good news: We can teach in ways that work, and students enjoy. | The good news: As students experience success, they continue to succeed. |


Where can I see what's inside?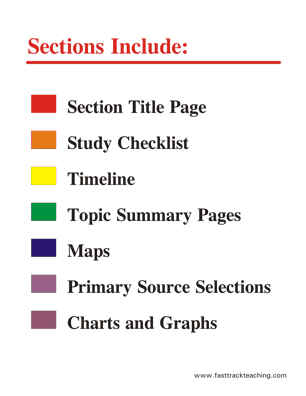 All the pages are shown on this title's Internet support site -

click here to go there now

. Just click on the link for any section. Then look for the

Teacher Key

links to the pages in that section. The pages are shown as they should look when completed by students. You can also find the links that students will use to complete the map pages and check their work on the charts and graphs, as well as links to many other resources.


What grade levels is this recommended for?



Fasttrack to America's Past

is most widely used in high school grades 9 - 11, home school, and adult ed classes. Some middle school teachers have used

Fasttrack to America's Past

as well. The design makes it easy for teachers to use the pages with students of different grade and ability levels. Just as with any classroom resource, younger students should be given more direct support, while older students will be able to work more independently.

The map below shows schools and programs around the country that have used

Fasttrack to America's Past

.


- Over 70,000 copies sold in all editions -



Teacher feedback:



"Easy to understand and very well organized."



"Like a road map and tour guide for U.S. history!"





"Extremely useful" "Very complete" "I love the maps"

"My students felt successful using this book!"
"No one can work through this book and not come away a better person."



"Students often ask if they can keep their copy."






Will new teachers be able to work with this?

New teachers will be very happy to have this comprehensive guide and the Internet support site to help them "hit the ground running." The pages of

Fasttrack to America's Past

make up an extraordinary collection of teaching and learning resources that teachers will all appreciate and use daily.


An invitation - free downloads to use with your students




You can download and begin using right now the 35 historical reading selections from primary sources that are part of this book. It is our gift to teachers and students everywhere, and an invitation to look further at all the resources in

Fasttrack to America's Past

. Please see the link on the home page for this title.

Thank you for all you do to teach America's story and its values to the next generation!
What about the cost?

Our goal is to make this more active and more engaging approach to U.S. history available to educators at the lowest cost possible. For just

$24.00

the purchaser of

Fasttrack to America's Past

7th Edition obtains all its resources, and permission to photocopy the pages as desired for use by his or her own students.

If your school would like to purchase individual copies for students, which many teachers and students prefer, call or email for a volume order discount (20% to 50%, depending on the quantity ordered).

Please see the

Prices and Ordering

section of the Information Page for this title for more details.


May our school buy just one copy and let our teachers photocopy pages for all the students in our school?

If you wish to copy pages of

Fasttrack to America's Past

for use school-wide, your school will need to purchase a copy of this title for each teacher who will be using the pages with his or her students.

Copying pages without purchasing a copy of the workbook is no different than shoplifting or any other form of theft. Do the right thing, and set an example for your students. Copyright details are

here

.


How can I get more information?

Please contact our office in Springfield, Virginia, by phone at: (703) 644 - 4612, or by email at: ftm.contact@verizon.net