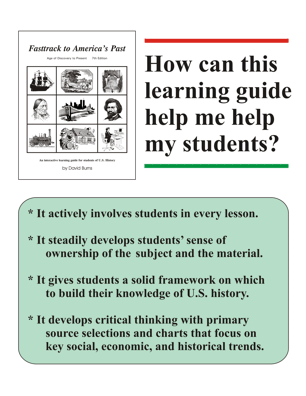 What is Fasttrack to America's Past?

Fasttrack to America's Past is a 240 page interactive learning guide / survey of U.S. history, supported by a matching Internet site. It was created by a veteran classroom teacher, and includes the topics typically covered in secondary level classes.

Over 70,000 copies have been used by students in the U.S., as well as in places as diverse as Switzerland and Sri Lanka. Many adults also enjoy it, just from their own interest in revisiting America's story.

The graphics-rich, workbook style format engages its users. For example, there are pages with maps, charts, graphs, and timelines to complete. The interesting, brief primary source reading selections in each section are another feature.



Fasttrack to America's Past

has won the

highest praise possible

: students often ask to keep their copy when the last pages are done!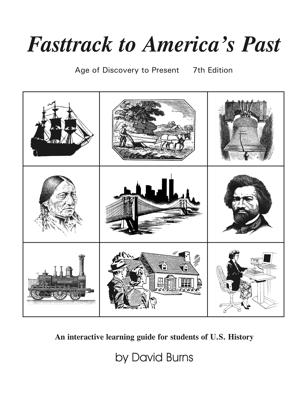 Tell me more -



Fasttrack to America's Past

encourages its users to explore topics widely, while still providing a common framework of essential historical knowledge. For example:
Key vocabulary terms, people, and events of each time period are explained in graphics-rich topic summary pages and timelines.

Students read and analyze brief selections from primary sources drawn from a diverse group of historical figures.

Students work with statistics to create charts and graphs of historical patterns, then draw conclusions based on their analysis of real data.
Students complete maps - 20 in all - to help them connect geography to historical events.

Where can I see what's inside?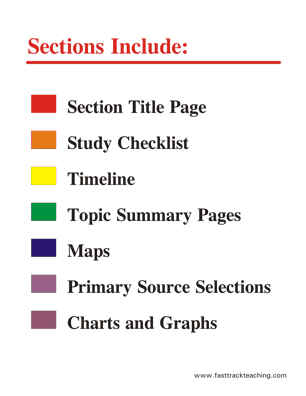 You can see most pages on this title's Internet support site. Just click on the link for any section, then look for the links to see the

Teacher Key

pages in that section.

There are also links in each section that students will use as they complete the pages and explore other resources that tell the story of America's past.

Click here

to go there now.


What grade levels is this for?



Fasttrack to America's Past

is most widely used at the high school level. It has also been used in summer enrichment / college prep classes, home school, and in adult ed classes. Many middle school teachers have used selected pages to add map, chart, and primary source reading activities to their lessons. The design makes it very adaptable, just as a good map or guidebook helps both the first-time tourist and the more experienced traveler.

The map below shows some of the schools and programs that have used

Fasttrack to America's Past

.


- Over 70,000 copies sold in all editions -


Teacher feedback:
"Easy to understand and very well organized."


"Like a road map and tour guide for U.S. history!"
"Extremely useful" "Very complete" "I love the maps"
"My students felt successful using this book!"

An invitation - free downloads to use with your students

You can download and begin using right now the historical reading selections from primary sources that are a unique feature of this book. It is our gift to teachers and students everywhere, and an invitation to look further at all the resources in

Fasttrack to America's Past

. Please see the link on the home page for this title.

Thank you for all you do to teach America's story and its values to the next generation!
What support is available for teachers and students using this?
The
Fasttrack to America's Past
Internet support site has a full Teacher Key, showing the maps, charts, and other pages as they should look when students complete them successfully. The web site also has many additional resources to use with the workbook. These include unit review questions, links to web pages for interesting historical places and topics, and more.
Click here
to see our brochure for teachers

"Getting Started with

Fasttrack to America's Past

"
What about the cost?

Our goal is to make Fasttrack to America's Past widely available at the lowest possible cost. It is both very affordable and very engaging to students. It is read, highlighted, worked on, written in, and enjoyed - unlike many expensive textbooks that sit unused at the bottom of lockers.


By providing an affordable and comprehensive set of teaching and learning resources, Fasttrack to America's Past can actually save money in curriculum development and textbook updating costs.


Volume orders from schools receive a substantial discount. Please see the

Prices and Ordering

link on the Information Page for this title for details.


May we buy just one copy, and photocopy pages for students in our school?

If you prefer making photocopies of the pages to use with students, rather than issuing the printed workbooks, please contact us about obtaining a school site license and a binder of the

Fasttrack to America's Past

pages. For more information about this option, see the

Prices and Ordering

section of the Information Page for this title.

Copying pages without permission is the same as shoplifting, plagiarism, or any other form of theft. You cannot expect students to act honorably if you are not honorable yourself. Do the right thing. Copyright details are

here

.


How can I get more information?

Please contact our office in Springfield, Virginia, by phone at: (703) 644 - 4612, or by email at: ftm.contact@verizon.net