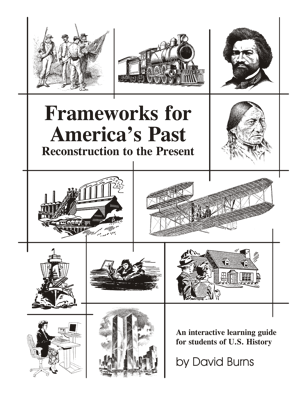 A hit with teachers and
students across Virginia!


Frameworks for America's Past
Three-ring binder format: 200 pages, 8 1/2 x 11 inches.
Second Edition - 2016. ISBN 1-893742-18-0

Binder with all pages: $75.00 each



Page set only

- replaces / updates the page set in your 1st Edition binder(s):

$35.00 each



Three ring binder format with all 200 pages printed one sided on heavy paper for easy photocopying. You will need at least one binder, but many schools order one binder for each of the main U.S. history teachers. Must be purchased with an annually renewable school-wide site license (see below).

Site license:

Call or email for a quote!



The site license gives teachers at your school permission to photocopy the pages for students at the school for a one year period. This modest fee helps maintain the matching Internet support site, keeping its resources available online for your teachers, students, and parents 24/7.