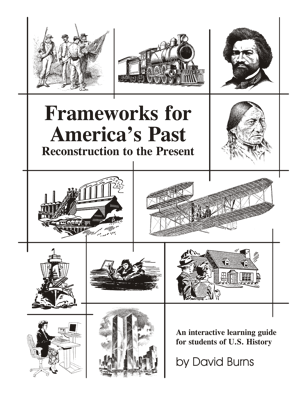 What is Frameworks for America's Past?

Frameworks for America's Past is a 200 page interactive learning guide / workbook and a matching Internet site for middle school U.S. history students. It closely tracks the new Virginia USII history Standards of Learning (SOL), covering the period from Reconstruction to the present.

The project was developed by a veteran history teacher eager to make the subject more engaging and personally meaningful for students of all backgrounds. It favors a strategy that blends direct instruction of core knowledge with wide opportunities for student directed learning and skills development.

Frameworks for America's Past uses a graphics-rich and interactive page design, and has helped thousands of students across Virginia of all ability levels succeed. For greatest flexibility, it is published in a convenient three-ring binder format with black-line reproducible pages.


What academic skills does the book emphasize?
Frameworks for America's Past emphasizes active student engagement in:
developing a core vocabulary of essential names, terms, and concepts.
developing skills for using Internet technology in historical studies.

developing geographic knowledge and map skills.
developing skills for analyzing and learning from primary source documents.
developing higher level thinking skills and historical perspective.
Where can I see the
pages of the study guide?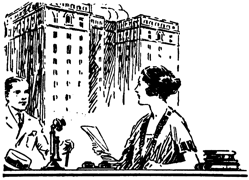 You can see all the pages, as they look with the notes, maps, and charts completed, on the Frameworks for America's Past Internet support site. Look in each unit for the link to

the Teacher / Student Key pages.


Does it match the USII Virginia Standards of Learning (SOL)?

Yes, our new Second Edition incorporates the Virginia SOL revisions for this subject approved in the spring of 2016. Like our earlier edition, it includes some additional material as well to flesh out certain topics more effectively. Each unit lists the specific SOL coorelation for the pages in that unit.


What about the cost?
Our goal is to make these resources widely available to schools at the lowest cost possible.

Frameworks for America's Past

is now available in a three-ring binder format that includes all 200 pages of the study guide, printed one-sided on heavy paper. It is sold with a modestly priced annually renewable site license that allows the pages to be photocopied for students as desired. The fee helps support maintaining and updating the Internet support site and all its resources for your school's students, teachers, and parents.

By providing an affordable and comprehensive set of USII history teaching resources,

Frameworks for America's Past

can help schools achieve real savings in curriculum development and textbook updating costs.

Please see the

Prices and Ordering

section of this title's

Information Page

for more details.



What support is available for teachers and students?

The Internet support site for this title (at www.fasttrackteaching.com/ffap) has a wide variety of great resources for teachers and students. The Teacher Key pages are on the site, with a link on each unit's main page - look for the icon of the open book beside the words "Study Guide." There are also extensive resources that you and your students will enjoy using, including historical photograph sets and links to interesting online video clips.


Be sure to click on the link for "Tips for Teachers" and also the link for information on the best LCD projector / screen resolution settings to use.


Frameworks for America's Past may be used with or without a traditional textbook. Most teachers find it so comprehensive that they use a textbook only as an occasional resource.



May we copy the study guide's pages without buying a site license?



No. Copying pages without purchasing a site license is the same as shoplifting, plagiarism, bank robbery, or any other form of theft. You cannot expect students to act honorably if you are not honorable yourself. Do the right thing. Copyright details are here.


How can I get more information?

Please contact our office in Springfield, Virginia, by phone at: (703) 644 - 4612, or by email at: ftm.contact@verizon.net