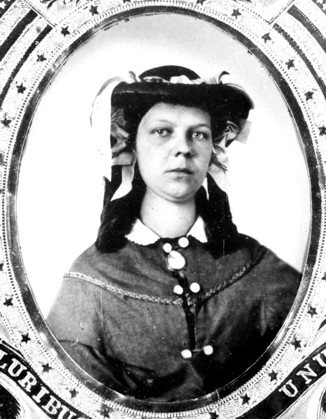 A war, a death, a new
love, and a new life together



Daniel Freeman was a physician and a widower living in Illinois when he joined the Union Army during the Civil War. He was assigned to patrol duty in Nebraska at one point. While serving there, he built a cabin on unclaimed land a few miles from the town of Beatrice. That was the plot of land he wanted to gain ownership of when he filled out his Homestead Act application in 1863.

Daniel's much younger brother James also joined the Union Army, and was engaged to a school teacher in Iowa named Agnes Suitor. James, however, died of an illness early in the war. Over the next few years Daniel and Agnes wrote each other many letters. In one of them Daniel declared:



"I love you and would be happy in trying to make you happy if you can love me in return. I would like to make you Mrs.

Freeman. . . if this does not suit you, pardon me for writing it. I know you will, for no lady can blame a man for loving her even if she cannot love him in return."



After some more heartfelt letters back and forth, Agnes agreed to become Daniel's wife. In 1865 they were married in her parents' home in Le Claire, Iowa. She later recalled their wedding day:



"I had made me an awful pretty gray dress, all trimmed with lace and beads; but my mother thought a girl ought to be married in silk - an old fashioned idea of course. I had a pretty black silk, so I was married in that. There were no guests at the wedding, just the family. We had a nice supper. In a couple of days we went to Abington to visit his folks. When we got back

to Eddyville, where he had left the wagon, we put a canvas cover on it and started for Beatrice."



Beatrice was the town in Nebraska close to where Daniel had his Homestead Act farm land. Agnes always remembered the night they arrived at the log cabin he had built there:



"A big fireplace brought forth warmth, and though one was only half length, there was a window on each side of the cabin. There was a chair and two oak benches. The bed was built in the wall, and the mattress was filled with hay. A small oil lamp with none too polished chimney, flickered dimly on the table. I was tired from my journey and as I got warm and rested it seemed more and more like home, and though often afterwards, I longed to go back east, this has been home to me ever since."



Sixty years later, in 1925, Agnes was interviewed for a newspaper story. At that time, she was 81 years old and a widow. You can read the story, with her memories of life with Daniel and their eight children, by clicking here. Agnes died in 1931.

The

National Park Service

later purchased the land from the couple's children. It became the Homestead National Monument of America. The photo of Agnes above is from their collection of historical materials. The NPS has a web site with more about the family, including some of the letters between Daniel and Agnes, here.