Review Questions for CE 14 in

Fasttrack Civics

- Finding Careers in the American Economy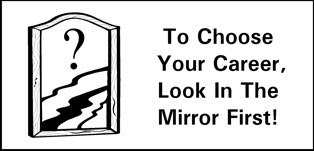 1. The poster above makes the point that the first step in planning a career should be to

A. go on a job interview.
B. do a self-assessment.
C. get a haircut.
D. check your smile.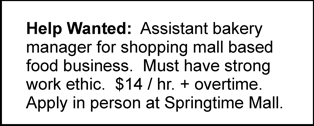 2. In the ad above, what does the term "work ethic" mean?

3. On average, people with higher education earn ___________ income than people with less education. (Answer choices: more, lower.)

4. The college degree that normally takes four years of full time study is called a(n) ____________ degree. (Answer choices: associate's, bachelor's, master's.)

5. The degree than is earned in two years of full time study, usually at a community college, is called a(n) ____________ degree. (Answer choices: associate's, bachelor's, master's.)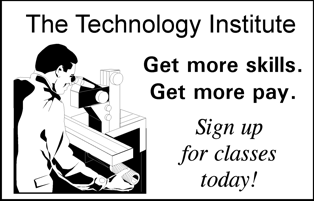 6. Is the message about skills and pay in the advertisement above generally true, or generally not true, in the American economy?

7. Education for a specific trade like plumbing or hair cutting is often called ___________ training. (Answer choices: economical, physical, vocational)

8. The income that can be expected in different jobs is influenced by how many people want to work in that field. and how many job openings there actually are in that field. Another way of saying this is to say that job income is influenced by supply and ___________. (Answer choices: price, demand, applicants.)

9. As computer and other technologies change in the years ahead, employers will want to ________ people who try to keep pace with the changes. (Answer choices: hire, lay off, avoid.)

10. The money that is paid per hour of work to an employee is usually called an hourly _________. (Answer choices: wage, salary, bonus.)

11. The money that is regularly paid to an employee and is

not

based on the actual hours worked is usually called that person's ____________. (Answer choices: wage, salary, bonus.)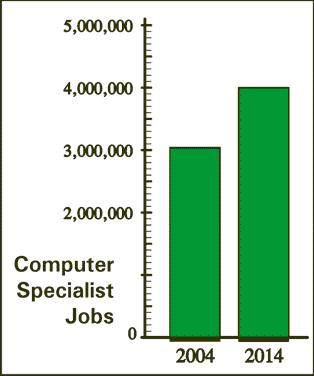 12. What does the graph above show as the outlook for computer specialist jobs, comparing 2004 to 2014?

A. There will be a decline in computer specialist jobs.
B. There will be about 1,000 more jobs for computer specialists.
C. There will be about 10,000 more jobs for computer specialists.
D. There will be about a million more jobs for computer specialists.

13. Being fiscally responsible means using your _________ wisely. (Answer choices: health, vacation, money.)

14. A budget is important because it helps a person or family ___________ their spending decisions and use their income wisely. (Answer choices: ignore, plan, inflate.)

15. A key rule of fiscal responsibility is that you should not spend all the money you earn. Instead, it is important to _________ part of your income. (Answer choices: save, trash, gamble.)







Copyright 2007, 2015 by David Burns
All rights reserved
www.fasttrackteaching.com/civics