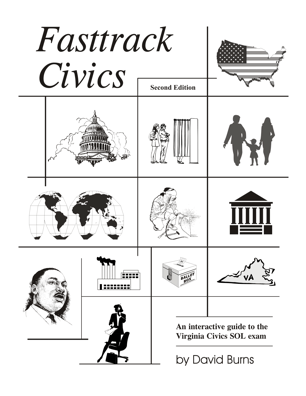 Students and teachers all
across Virginia classrooms:
"Thanks! It's just what we needed!"




Two great ways you can use




Fasttrack Civics:





1

-

As printed workbooks issued to your students, or . . .

2 -

As a binder / site license combo that allows teachers to photocopy pages for making student handouts and packets.




Fasttrack Civics


Sturdy paperback binding:

168 pages, 8 1/2 x 11 inches.
Second Edition: ISBN 1-893742-11-3



30 - 99: $11.95 each
100 or more: $5.95 each





Minimum order for workbooks: 30 copies.


Please submit orders for the 2017-18 school year by July 1, 2017 to ensure sufficient quantities will be available.



---
Fasttrack Civics
Three-ring binder format: 168 pages, 8 1/2 x 11 inches.
Second Edition: ISBN 1-893742-16-4

Binders:

$75.00 each



Three-ring binder format with all 168 pages printed one sided on heavy paper for easy photocopying. You will need at least one binder, but many schools order one binder for each of the main Civics teachers. Must be purchased with an annually renewable school-wide site license (see below).

Site license:

Call or email for a quote!



The site license gives teachers at your school permission to photocopy the pages from the binder for students at the school for a one year period. This modest fee supports the matching Internet site, keeping its many resources available online for your teachers, students, and parents 24/7.


---



Teacher Key - Fasttrack Civics


Heavy duty spiral binding for daily classroom use by teachers,
with a plastic film cover for added durability. 168 pages.
Sold only with orders for workbooks or binders.
Second Edition: ISBN 1-893742-12-1



$35.00 each.