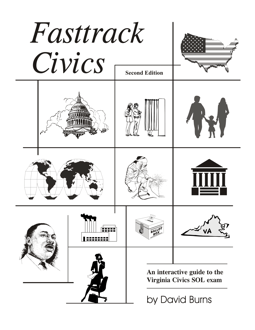 What is

Fasttrack Civics

?

Fasttrack Civics is a 168 page interactive learning guide / workbook that guides students and teachers through the essential facts, concepts, and vocabulary found in the Virginia Standards of Learning for middle school Civics and Economics.

The project was developed by a veteran Civics teacher eager to help students of all backgrounds succeed. It encourages teachers to use a blended strategy of direct instruction of core knowledge, with wide opportunities for self-directed student learning and skills development.



Fasttrack Civics

uses a graphics-rich, interactive page design that helps all students learn. It is available in a sturdy paperbound format, or in a three-ring binder / site license combination that allows teachers to photocopy pages as desired for students.




Does it align well with the Virginia Standards of Learning (SOLs)?



Yes, it follows the SOL for middle school Civics and Economics very closely. It also includes some additional material to flesh out certain topics more effectively. It has been used successfully in hundreds of classrooms across the state.


Click here for SOL correlations

(2008 - 2015 standards numbers)



The recently published revisions to the Civics SOL document show some tweaks to the basic content framework, but overall, it is not greatly changed in content. Two sections have been swapped in the CE numbering list.

Fasttrack Civics

remains a very close match for the main Civics / Economics topics in the revised SOL, and we will continue distributing our Second Edition for the 2016 - 2017 school year. We will be working on a revised edition that will be ready for the 2017 - 2018 school year.


What about the cost?


Our goal is to make Fasttrack Civics widely available to schools at the lowest possible cost. There is no additional fee for the Internet support site. Please click on the link for Prices and Ordering on the Fasttrack Civics home page for more information.



What support is available for teachers and students using this learning guide?

The

Fasttrack Civics Teacher Key

, in a sturdy spiral bound format for daily use, is available at a modest price.

We also make available at no additional cost the many resources for students, teachers, and parents on the Fasttrack Civics Internet support site. These include PowerPoint presentations on Civics and economics topics, unit review questions, and interesting links to other Internet sites.



Click here

to see our brochure

"Getting Started with

Fasttrack Civics

"




May we copy the study guide's pages and hand them out to students?


If you prefer making photocopies to use as student handouts, rather than issuing printed workbooks, please contact us about obtaining a school site license and master binder of the

Fasttrack Civics

pages. For more information about this option, click on the link for

Prices and Ordering

on the

Fasttrack Civics

home page.

Copying pages without permission is the same as shoplifting, plagiarism, or any other form of theft. Do the right thing, and set an example for your students.

Full copyright information is

here

.

How can I get more information?

Please contact our office in Springfield, Virginia, by phone at: (703) 644 - 4612, or by email at: ftm.contact@verizon.net